Perfect Loop
Having an integrated referral campaign creates a complete cycle. As customers buy from your store, they get invited to join the referral campaign. Customers get rewarded ONLY if they bring new sales to your store.
Drive more conversions since a referral is equivalent to conversion.
Engage with your customers, when they are most convinced about your brand.
Can reward both referrer and referral
Referrers can spread the word about your store, on Social Media, Messaging apps and/or Email.
Benefits
Extend your reach
Let happy customers do the out reach for you. Reward them for sharing your store on Social Media and Messaging Apps or when converting a referral into a customer.
Lower your CTA
The more referred leads you get, the lower your CTA will get.
Engage at the right time
Engage with your customers at the time when they are most convinced about your brand - as soon as they just did a purchase.
Increase customer loyalty
Rewarding your customers will further increase their loyalty fueling repeat purchases
Power Customers
Identify who your top customers are and reward them accordingly.
Seamless Integration
No need to change your current user flow. Copy and paste the code in thank you page or by adding a simple webhook.
How to get started
EarlyParrot can be integrated with your SaaS in under 15 minutes.
No, you do not need to be technical and do not require any time from your IT guys.
Step 1: Pasting Code
For EarlyParrot to track visitors, referrals and referrers, tracking must be placed on both the Landing Page and the Share Page. The tracking code can be either pasted manually or else integrated via Google Tag Manager.

Verify EarlyParrot Landing page installation by clicking on Verify Installation button.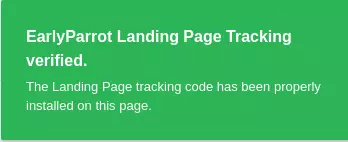 Step 2: Set up WebHook
Let Shopify, WooCommerce, Magento notify EarlyParrot, through a webhook call, of new sales that have occurred. EarlyParrot will perform its magic and detect whether the sale was referred or not.

If the sale has been referred, rewards are sent to the referrer.


Step 3: Create Rewards
Decide how and when to reward your referrers. Pre-generated coupons can be automatically sent out to referrers and referrals as per campaign settings.

Optionally generate coupons to be automatically sent out to referrers and referrals.
Step 4: Brand Pages and Emails
All customer facing pages and all emails sent by EarlyParrot on your behalf can be customised and branded to match your style.


Step 5: Import & Invite customers
Engage with existing customers. Easily import, all your customers and invite them to your referral campaign. This will help kick-start your campaign and get referrals faster.


Step 6: Get Reviewed & Go Live
At EarlyParrot we have your back. We are here to help you succeed with referral marketing. We review all campaigns to make sure you are good to go.



Step 7: SEND INBOX MESSAGES
EarlyParrot enables you to directly communicate with all your subscribers by sending them broadcast messages. Keeping a good relationship with your subscribers ensures success in referral marketing.