This tutorial contains a step by step instructions on how to create an EarlyParrot campaign.
Creating and editing an EarlyParrot campaign is very similar. You just have to follow the same wizard.
We recommend you check out whether EarlyParrot is a good fit for what you want to achieve.
Go to the all campaigns screen and click on the top-right create campaign button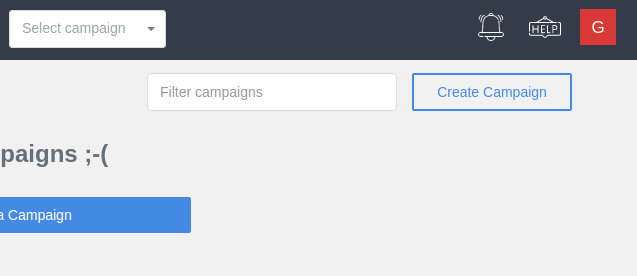 EarlyParrot Campaign Information
Follow the steps provided by the wizard to create an EarlyParrot campaign.
Give a name to your campaign and choose a language for your sharing widget. EarlyParrot supports English, Italian, Spanish, French and German.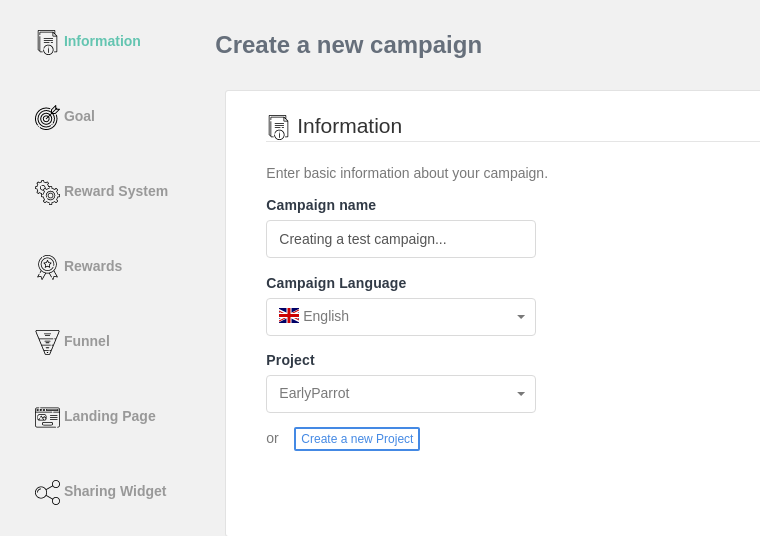 EarlyParrot Campaign Goal
What best describes your business and the goal you would like to achieve with your EarlyParrot referral program?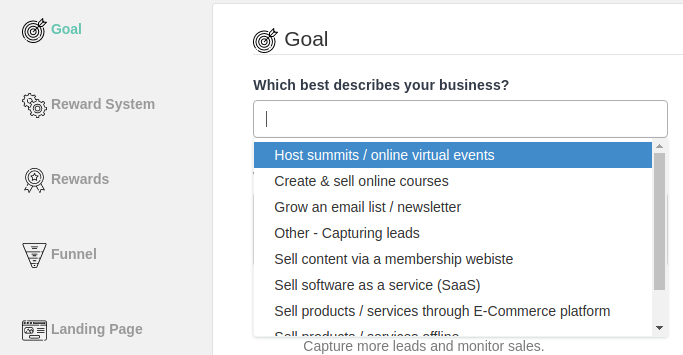 Describes your business and choose between two different kinds of referral programs: Marketing Referral Program or Sales Referral Program
Read more about marketing referral program vs sales referral program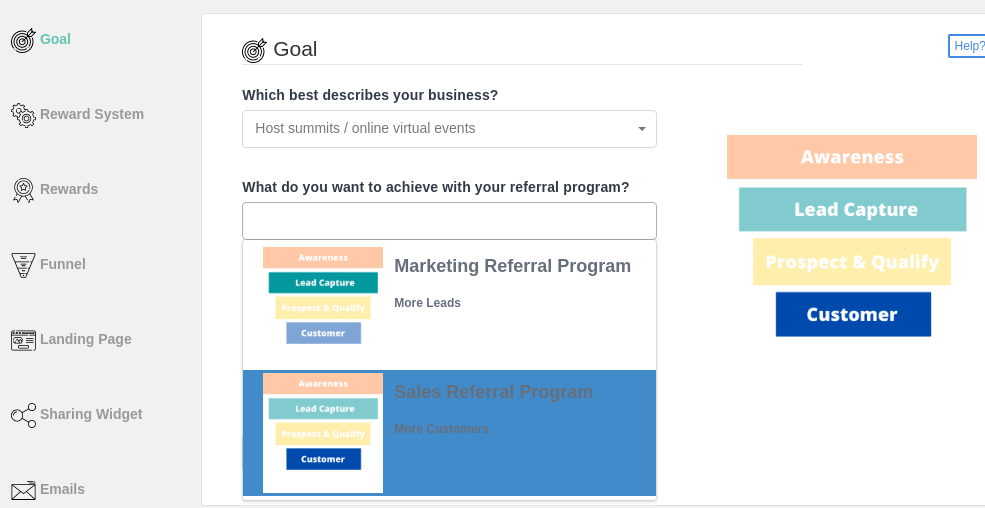 Your EarlyParrot Campaign Reward System
Right after what you want to achieve you have to decide how you want to achieve it? The reward system defines the 'rules' of the game. EarlyParrot supports three different reward strategies: Reward Unlocking, Top Influencer and Fast Lane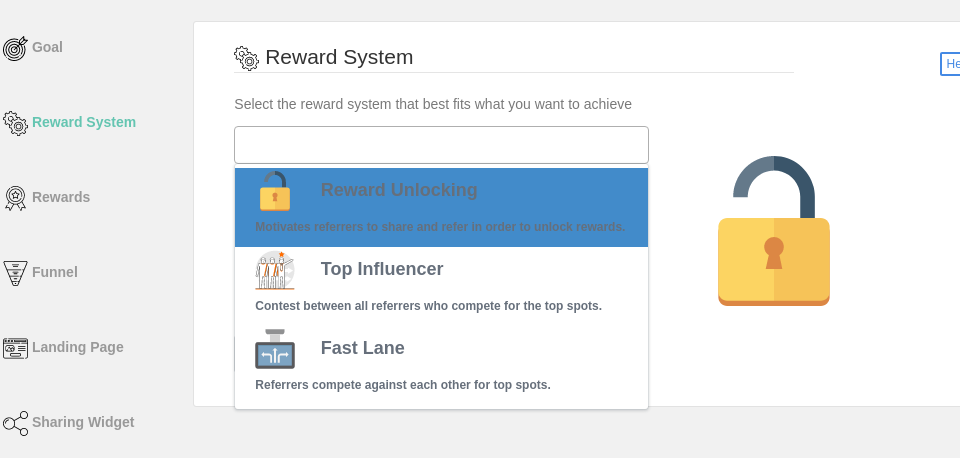 Setting up Rewards
Next up is the setting up of the rewards.
The reward step is dependent on which Reward System and the type of Referral Program you have chosen.
EarlyParrot can deliver rewards at three different stages:
Awareness stage: Use this to send welcome rewards in double-sided campaigns. New referred leads can be rewarded with a welcome reward, which can be sent out by EarlyParrot straight after they sign up.
Lead capture stage: Reward referrers as soon as a lead is referred, provided that the campaign conditions are met.
Customer Stage: Referrers are only rewarded if a referred lead converts and becomes a paid customer.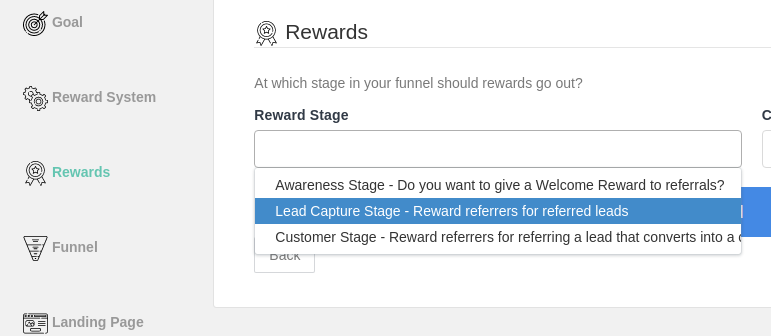 Rewards can be stacked and can be double-sided. Reward stacking helps gamify your referral campaign increasing engagement and getting better ROI.
Funnel Configuration
Which software are you using at the Lead Capture Stage? How are you processing payments of customers?
EarlyParrot will work around your existing software stack. We will not ask you to change any forms, modify your lead capture flow or your cart. Depending on your existing configuration, EarlyParrot will provide you with the necessary instructions on how to integrate your referral program.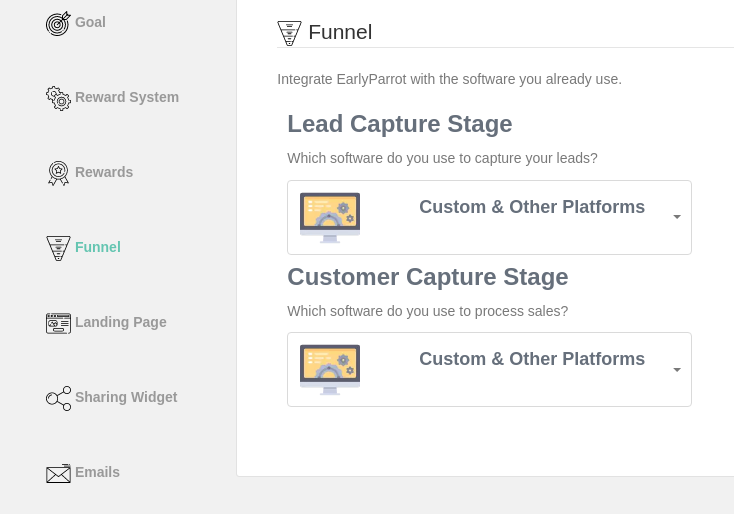 Set up the Landing Page
The landing page is the page where referrers will send referrals to. It can be a sales page, an opt-in form, a registration form or an intermediate page that has a Call to Action for leads to take action.
The landing page integration step depends on the software stack selected in the funnel stage. As a general rule, you will have to add the provided script to the landing as shown.

Enter the landing page URL and verify the script installation by clicking on Verify Installation button.

Set up the Sharing Page
The Sharing widget is what enables your referrers to share and promote you and your business. You can set up the sharing widget in three main steps.
Choose the sharing widget style.
Choose the sharing widget style that matches your needs. The Full Widget is the most popular choice as it provides a complete dashboard to the referrer.
It provides the referrer with:
sharing functionality
list of rewards
an activity overview
Check our different widget styles and see what best matches your needs.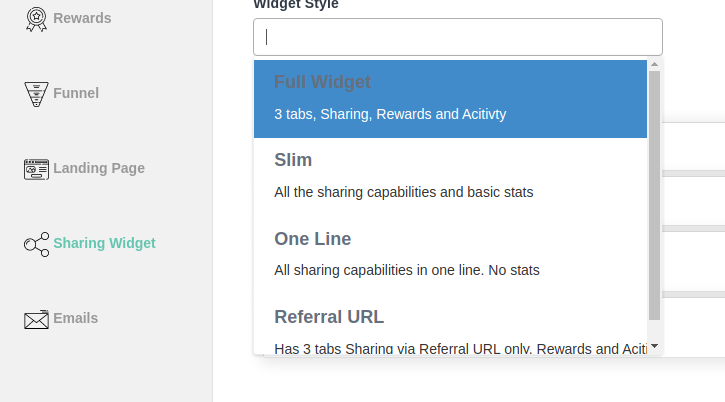 Set up the look and feel & sharing messaging
EarlyParrot provides you with full customization of the sharing widget. Change colours and hit the Preview Sharing Widget button to check out how your sharing widget looks.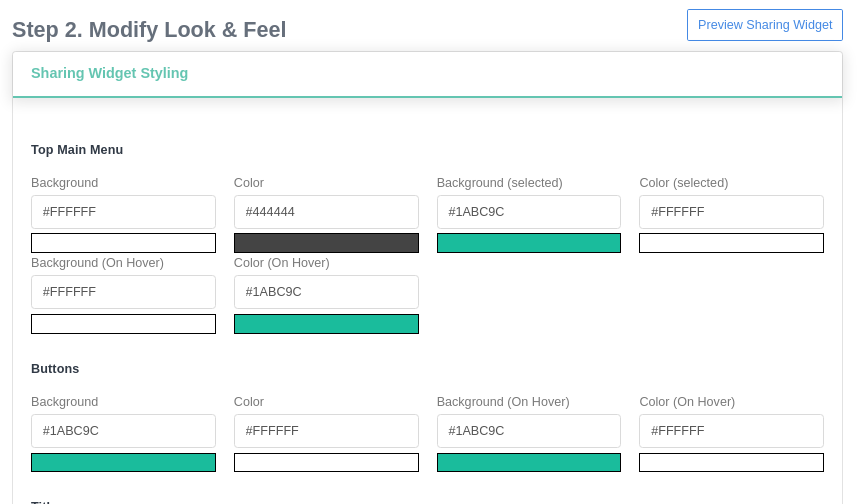 Paste any custom CSS that you would like to include in your sharing widget. This is an advanced feature, and you should only use it if you know how to code CSS.

Several other sharing widget settings are available under the Sharing accordion.

The Email Invite section allows you to choose whether to:
allow referrers to send out email invites straight from the sharing widget
copy the provided the email copy and send it out from their personal email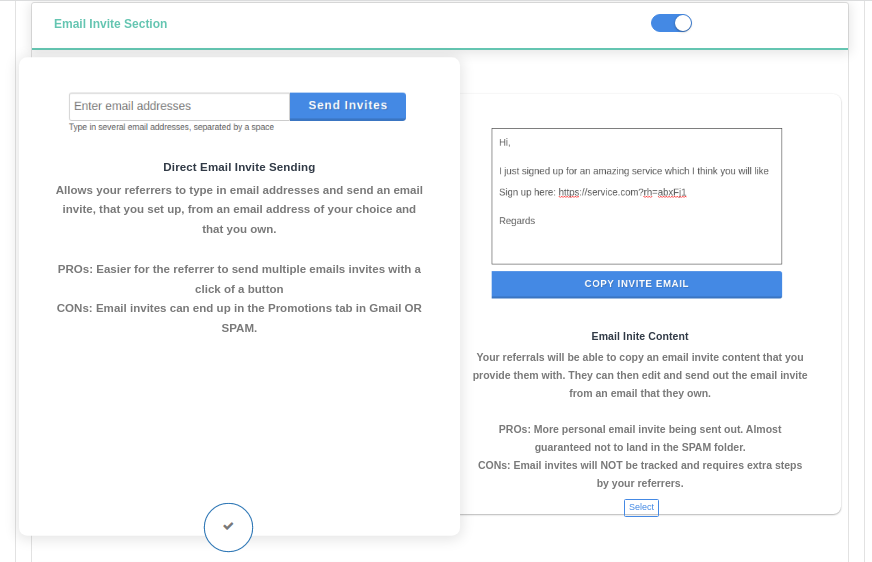 The Social Section allows you to set up which social media to show up in your sharing widget. Set up the text to be pre-populated for different social media.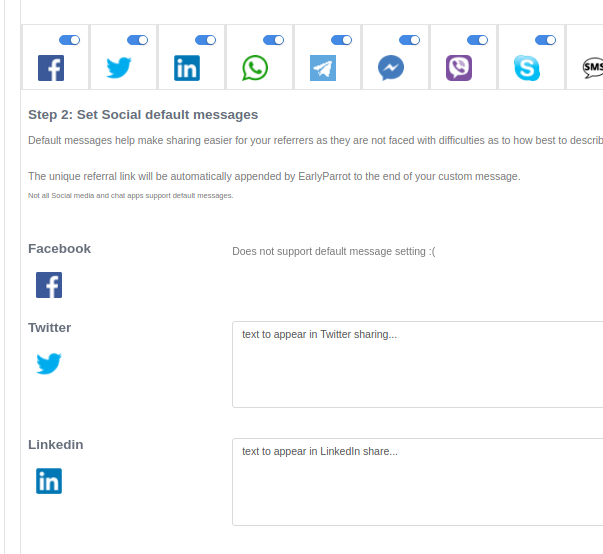 Other settings allow you to enable disable the Referral URL section, modify the rewards and activity tab.
Add and Verify your Sharing Widget
After configuring the sharing widget is configured, you will have to:
paste the provided code on a page of your choice
enter the Sharing Page URL
verify your Sharing Widget code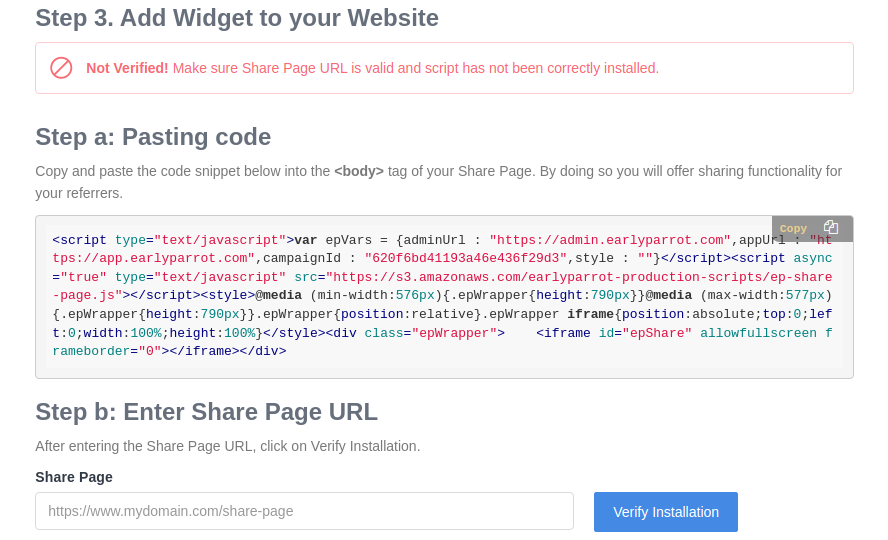 Emails Configuration
EarlyParrot sends out emails in the following scenarios:
a new lead joins your campaign (Welcome Email)
a referrer refers someone via the Email Invite functionality in the sharing widget (Email Invite)
a referrer is entitled to get a reward. Check out how to set up reward emails in EarlyParrot.
In the email step, EarlyParrot allows you to set:
the email address FROM which emails are sent from [email protected]. You will not incur extra cost. We use Amazon SES to send emails and we cover all cost for sending out emails. The FROM field will show your email, boosting open rate.

the content of the emails to be sent out. You can tweak the basic emails or else use our built-in HTML editor to customise emails.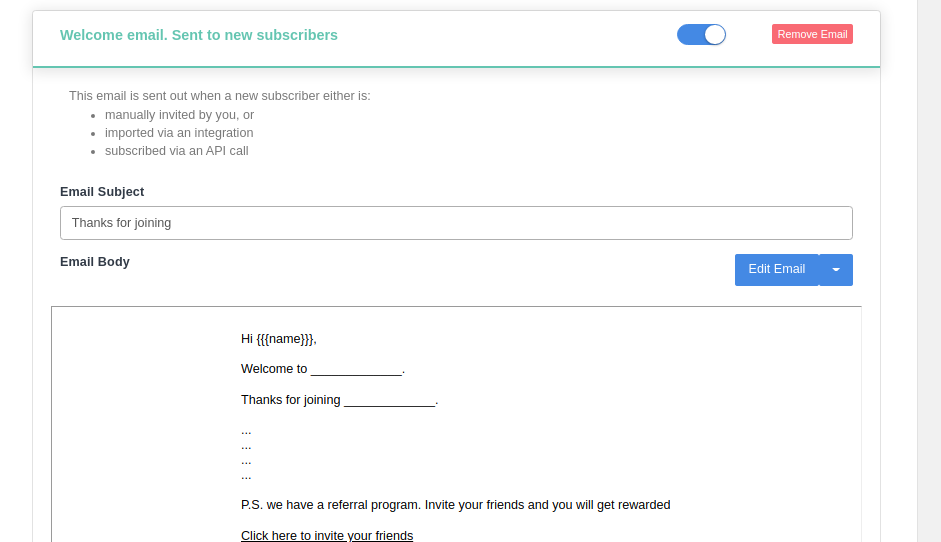 With that set, you are ready to go. If you have any questions about any of the above steps, please feel free to email our [email protected]