Creating a referral marketing campaign in EarlyParrot is very easy.
Click on the create campaign button.

Then follow the campaign creation wizard.  In the first step, you will be asked to give a name to your campaign and choose the language for your emails and landing pages. EarlyParrot supports English, Italian, Spanish, French and German.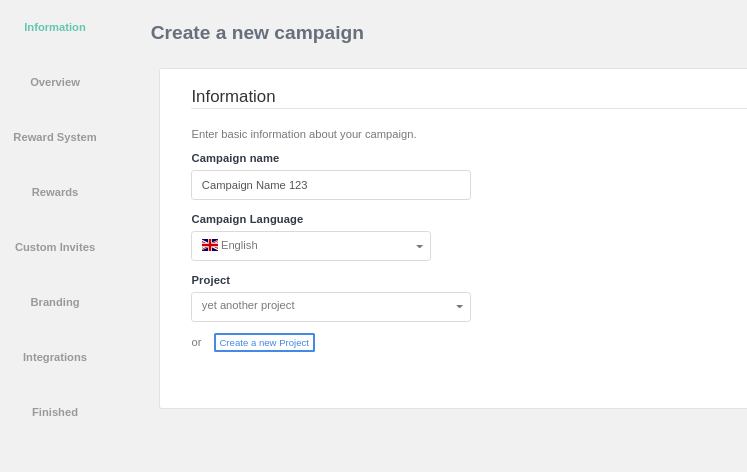 In the next step, you will be asked what you would like to achieve with your campaign. EarlyParrot offers several integrations and can fit various use cases. For more information, you check whether EarlyParrot is a good fit for what you want to achieve.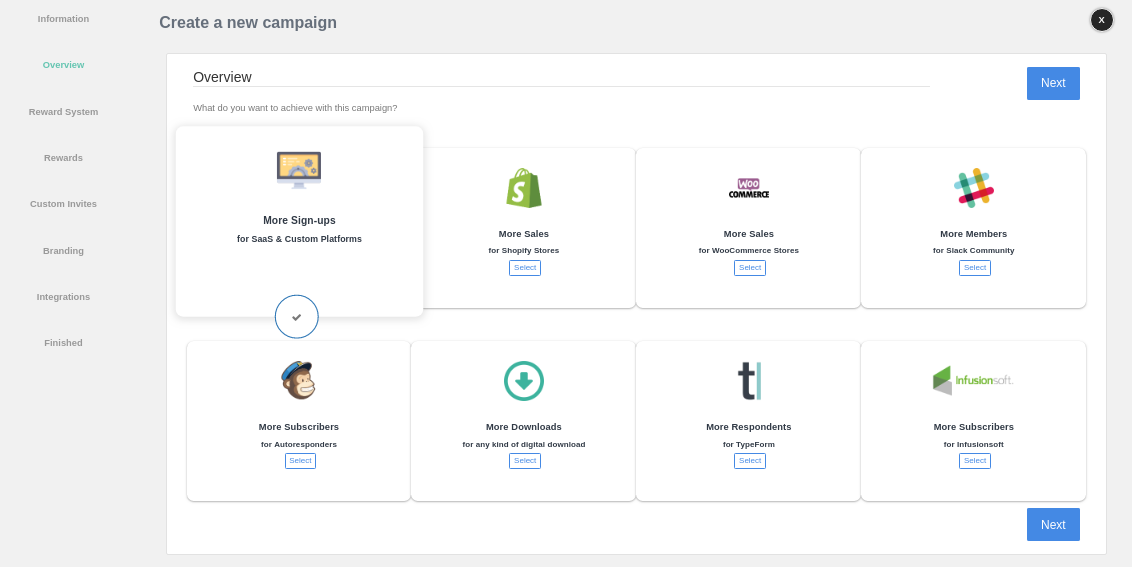 Right after what you want to achieve you have to decide how you want to achieve it? The reward system defines the 'rules' of the game. EarlyParrot supports three different kinds of strategies: Reward Unlocking, Top Influencer and Fast Lane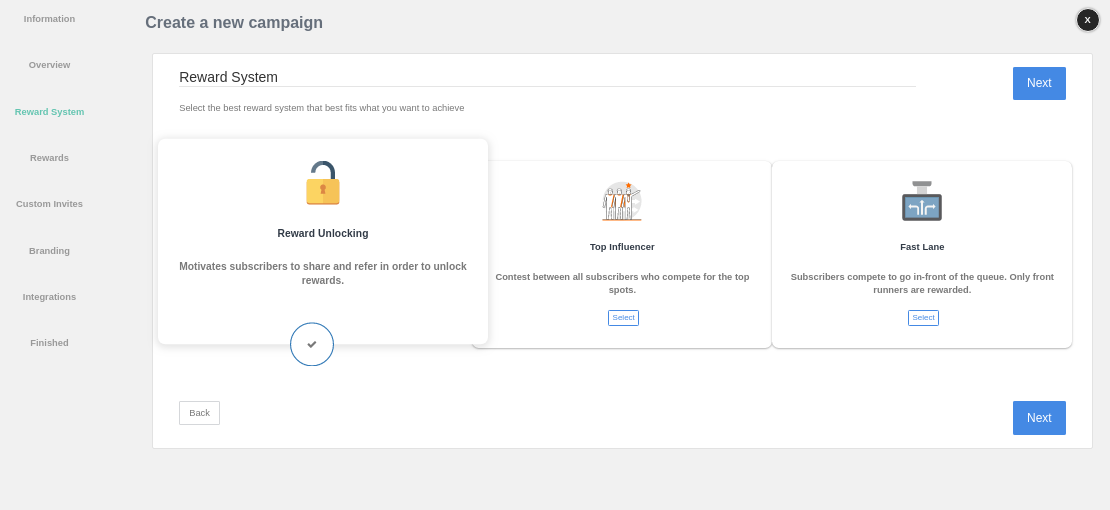 Next up is the setting up of the rewards. Rewards can be stacked and can be double sided. Along with each reward, you must then define the metric to use to measure whether a referrer is entitled to get a particular reward. Eg. in the following screenshot, on getting 1 referral, a referrer will be entitled to 10% off.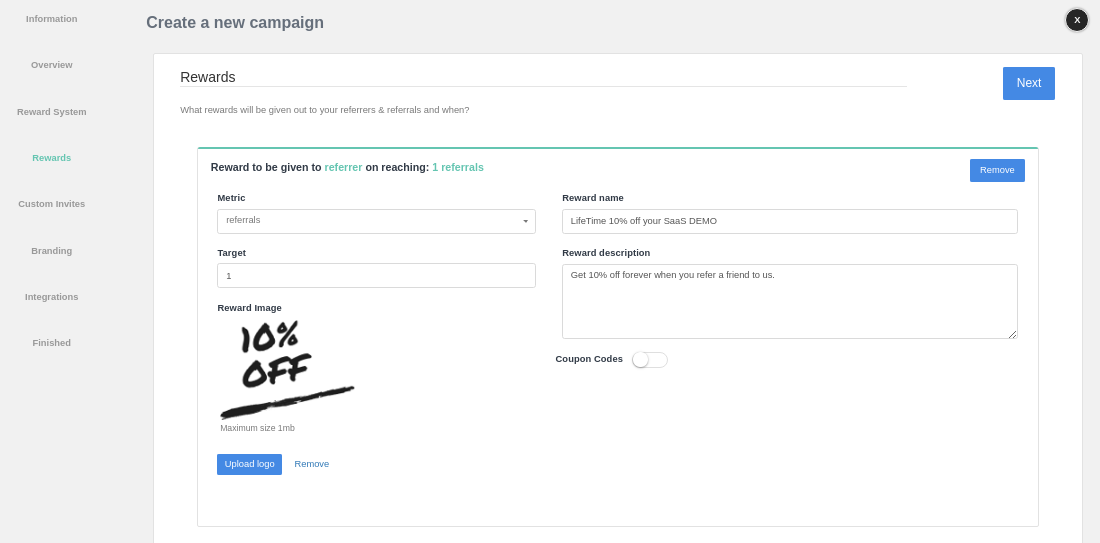 Next, you can pre-populate the text to be shared on social media. This will help in making sharing on social media easier, as referrers can share your messaging and brand with a single click.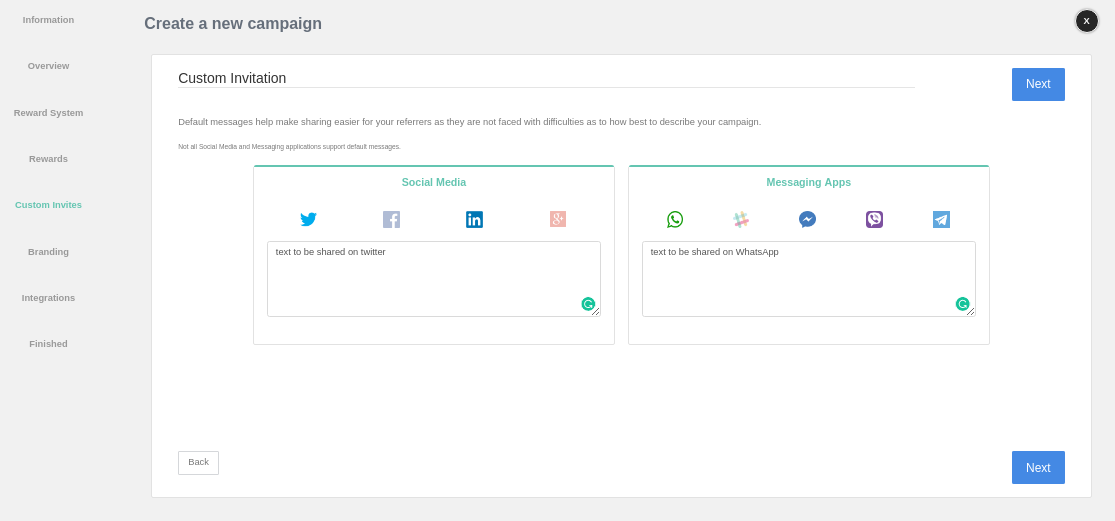 Next is perhaps one of the most important steps. Branding. EarlyParrot allows you to set:
the email address FROM which emails are sent from [email protected] You will not incur extra cost. We use Amazon SES to send emails and we cover all cost for sending out emails. But the FROM field will show your email, boosting open rate.
the content of the emails to be sent out. You can either tweak the basic emails or else use our built-in HTML editor to customise emails.
the styling of the Share Page and other pages which your subscribers and referrers will use to share and/or check their activity in your campaign.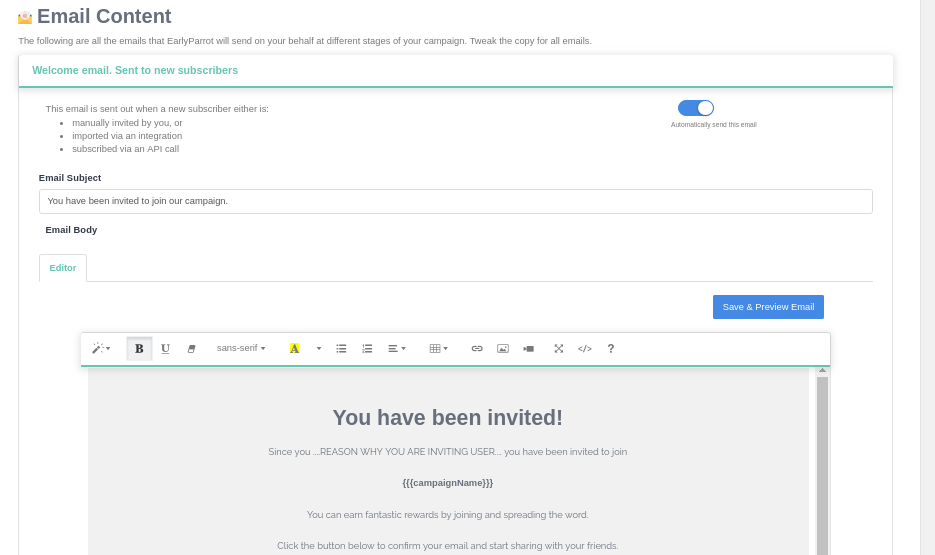 The integration step is the final step. The integration step highly depends on the campaign overview chosen in the 2nd step. EarlyParrot supports integration with a lot of providers such as MailChimp, Aweber, ConvertKit, Infusionsoft, Slack, Shopify, WooCommerce, WordPress and also custom integration via its flexible API. In this step, the EarlyParrot campaign creation wizard will show the required steps to integrate EarlyParrot within your existing funnel.

For more information check our how to section to find the most appropriate and useful integration for your use case.
All EarlyParrot campaign types are inspired by successful referral marketing campaigns that went viral. Some of the brands which managed to pull off a really successful campaign are Dropbox, Airbnb, Robinhood and Harry's. The success of their referral campaign made them well-known brands.