Whilst doing my daily rounds of Quora answering (follow me on Quora) I found this question: What referral marketing system does HotJar use? which got me thinking!
HotJar is a Conversion Rate Optimization (CRO) tool for marketers who would like to better understand how their website visitors are navigating their way through the different pages. HotJar is truly a successful SaaS! They hit $10,000,000 in annual revenue 10 months ago.
How did HotJar grow?
We threw in a lot of kind of incentives in there. It just took off. It went crazy, literally. So within a few months we hit around 60,000 emails and growing.
David Darmnanin, CEO of HotJar spelt out the way how HotJar acquired so many users. HotJar, as from day one, had their own referral system developed and integrated into their SaaS. This made it easy for HotJar users to invite their friends in exchange for a reward. It was so successful that HotJar kept doing and still are till this very day.

Is it worth it?
One good thing about HotJar is that they are very transparent about anything they do. In fact, they even state how many referrals each and every participant has. Just logged into my HotJar account.  Keep in mind that this screenshot was taken on the 24th of the month, hence so expect at least 25% more referrals till the end of the month.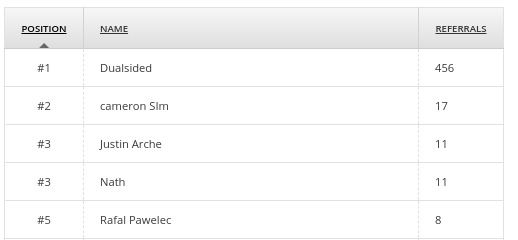 For the month of September, up till the 24th, HotJar's referral system has generated over 694 sign-ups.
How can my SaaS be like HotJar?
HotJar went ahead and built their own referral system since at that time it might be they didn't find a suitable solution to integrate into their SaaS. But you have the option to use a referral marketing platform that has been tried and tested by several other SaaS founders. EarlyParrot is the platform of choice when it comes to referral marketing for SaaS companies for two simple reasons:
Integrates into your user flow: EarlyParrot can be tightly integrated into your SaaS via it's easy to use API. Just how like HotJar did it, you have a section in your SaaS that is completely dedicated to your referral campaign. Don't integrate with a referral marketing platform which requires your users to sign up again for it. Automatically generate a unique referral link and clearly show it to your users.
Branding / Seamless flow: EarlyParrot allows you to totally brand your referral campaign. Make sure you can brand your emails, your pages and make sure emails go out from your domain. Platforms that enforce Powered by links or any kind of promotion to their platform, OR do not allow you to fully customize your campaign according to your needs should be out your sight.