We strongly suggest that you test your EarlyParrot Thinkific Referral Program straight after creating an EarlyParrot campaign and integrating Thinkific with EarlyParrot. Whist we reviewed every campaign to ensure you are ready to go, it would be great to experience how the referral program will work for your students to understand the flow better.
Things to keep in mind when testing your referral Program
EarlyParrot will only pull students who enrol or orders placed after integrating Thinkific with EarlyParrot. There is no reason to pull up past orders or students. Only future enrolments or purchases will be pulled and checked for referrals.
EarlyParrot ignores zero amount purchases. When making test purchases in Thinkific, make sure they are not zero amount as EarlyParrot will discard those purchases.
Built-in fraud checks in EarlyParrot. EarlyParrot comes equipped with several fraud detection techniques to ensure that students in your campaign will not cheat their way to rewards. Fraud checks, like same IP referrals can be switched off by enabling sandbox mode for your referral campaign.
Emails will not work unless your campaign has been reviewed and is set to live. All emails sent out by EarlyParrot are queued for security reasons until we review your campaign.
What should you test your EarlyParrot Thinkific Referral Program for?
We recommend you perform the following tests before going live with your Thinkific referral campaign.
Ensure you have connected EarlyParrot and Thinkific
Locate your EarlyParrot campaign and go to the integrations tab. Switch ON the Active Integrations switch to view only active Integrations.
Click on the Thinkific Integration.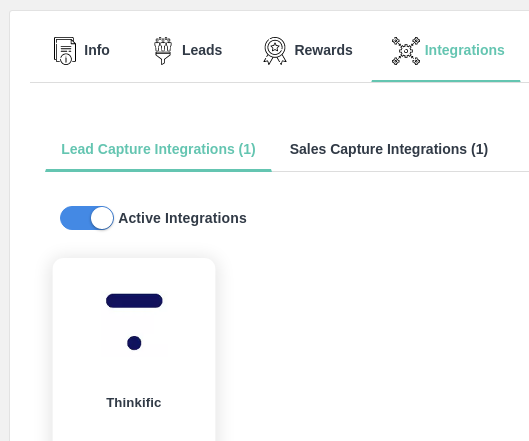 Verify that EarlyParrot is connecting with your Thinkific school.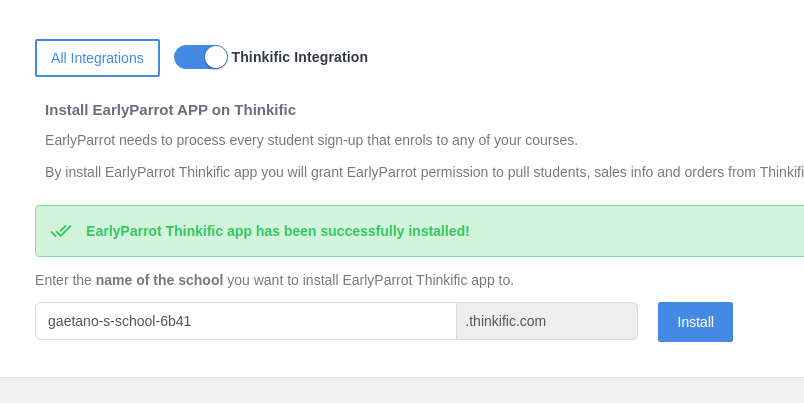 Please check this tutorial on how to connect your EarlyParrot campaign to your Thinkific school.
Refer yourself, then enroll to one of your courses
After ensuring that your campaign is set to sandbox mode, refer yourself in an incognito window and enrol to a course using another email you own.
Here is how to perform this easy test.
Step 1: Go to your campaign's lead list.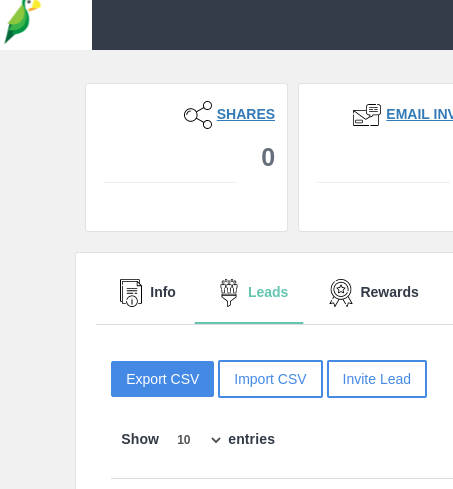 Step 2: Find an existing lead subscribed to your campaign who will act as the referrer. Click on it to get the Unique Referral URL.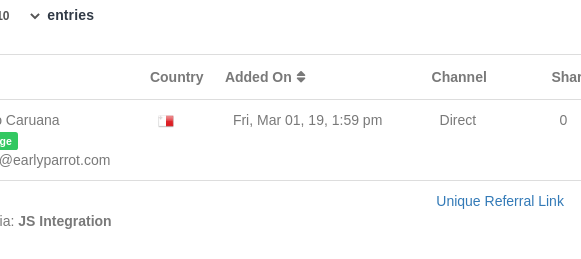 Step 3: Copy the Unique Referral URL and paste it into an incognito window. Go on and sign up and enrol on a course.
Step 4: Head back to EarlyParrot and check that you have a referred lead. Check that the referral has been successfully tracked.

Click on LEADS to see who has referred who and verify the referral.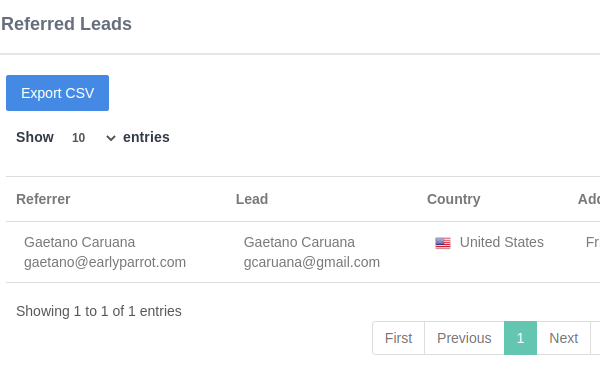 Perform a test purchase
If your referral campaign is a sales referral campaign, then you will have to test out the sales process to ensure that EarlyParrot is pulling orders from your Thinkific account. Please keep in mind that:
EarlyParrot ignores 0 amount purchases
you must set your campaign in sandbox mode
After you have referred yourself by following the above procedure, you should make a test purchase of a paid course.
Once done, head back to EarlyParrot and check that you have a referred sale. Check that the referral has been successfully tracked with the right amount and currency.