EarlyParrot is a referral marketing platform that can be easily integrated within almost any sales funnel/user flow. Once you integrate EarlyParrot with Thinkific you will be able to:
track all your Thinkific students as they sign up,
track all of your courses purchases
detect when and who new students are referred (referrals)
automatically reward referrers as they reach a particular milestone in your referral campaign.
This Knowledge Base (KB) focuses on how to add a refer-a-friend system to your Thinkific courses.
At EarlyParrot we have developed a Thinkific APP that makes it easy to add a referral program to your Thinkific account.
Before we proceed – don't want to integrate EarlyParrot yourself? Don't have the resources to do or simply wish to have us set it up for you? We offer a done for you service, at a very reasonable price. Send us a request on su[email protected] with your domain for further instructions.
Why do you need to integrate EarlyParrot with Thinkific?
By adding a referral program to your Thinkific course(s) you will be turning your students into active referrers, giving them the functionality and ability to invite their friends to sign-up to your courses in exchange for a reward.
Here are the top reasons why you should have a referral program with your Thinkific account
How is a Thinkific referral program structured?
Irrespective whether your Thinkific is hosted on thinkific.com or your custom domain, your referral program will be made up of the following main components:
Landing Page: The landing page is where all your referred students will be sent to. This can either be your homepage, your Thinkific courses page or else a custom Thinkific page. EarlyParrot will capture all your visitors, track them until they either leave your website or else they sign-up for a FREE course and/or purchase a course.
NEW student sign-up: EarlyParrot will process each and every student sign-up. By monitoring every student sign-up, EarlyParrot will determine where a student has been referred or not. Using EarlyParrot you can create a campaign which rewards referrers for referring new students to FREE courses.
PAID course sign-up: If on the other hand you would like to create a referral campaign which rewards referrers only if they refer paid students, then you can have EarlyParrot monitoring all your course sales. By monitoring your sales, EarlyParrot will determine whether a particular student has been referrer and hence whether the sale was referred or not.
Share Page: Through the functionality provided by this page, your students will be able to refer their friends by either: by sending direct email invites, by sharing posts on social media such as Facebook, Twitter, LinkedIn or else by sending referral links on chat apps such as WhatsApp, Facebook Messenger etc.
Now that you know the different components that will make up your referral program, let's create a referral campaign on EarlyParrot and go on with integrating it with a Thinkific account.
Creating a referral campaign in EarlyParrot
Creating a referral campaign on EarlyParrot is very easy. Check out how to create a campaign in EarlyParrot knowledge base article for more information.
Integrating your EarlyParrot campaign with your Thinkific account
In order to simplify the process of integrating EarlyParrot with Thinkific account, EarlyParrot has developed a Thinkific App called EarlyParrot – Referral Program. This app makes integration a breeze, automatically installing the right tracking scripts for you with a click of a button.

Step 1: Install the Landing Page script
What is your referral campaign landing page? A landing page is where all your referred students are sent to. So let's say your homepage is your referral campaign landing page. Referred students are sent to www.yourdomain.com?rh=XXX123. The rh param will uniquely identify the referrer and the source where the student is coming from.
Installing the Landing page script in Thinkific is very easy through the EarlyParrot Thinkific App.
In the Landing Page step in the EarlyParrot Campaign Wizard, you need to:
Install the EarlyParrot Thinkific App
Enter the name of the Thinkific school. In this example, the name of the school is mary-s-school-bb50 and click Install App & Grant Access.

You are then redirected to the Thinkific consent screen.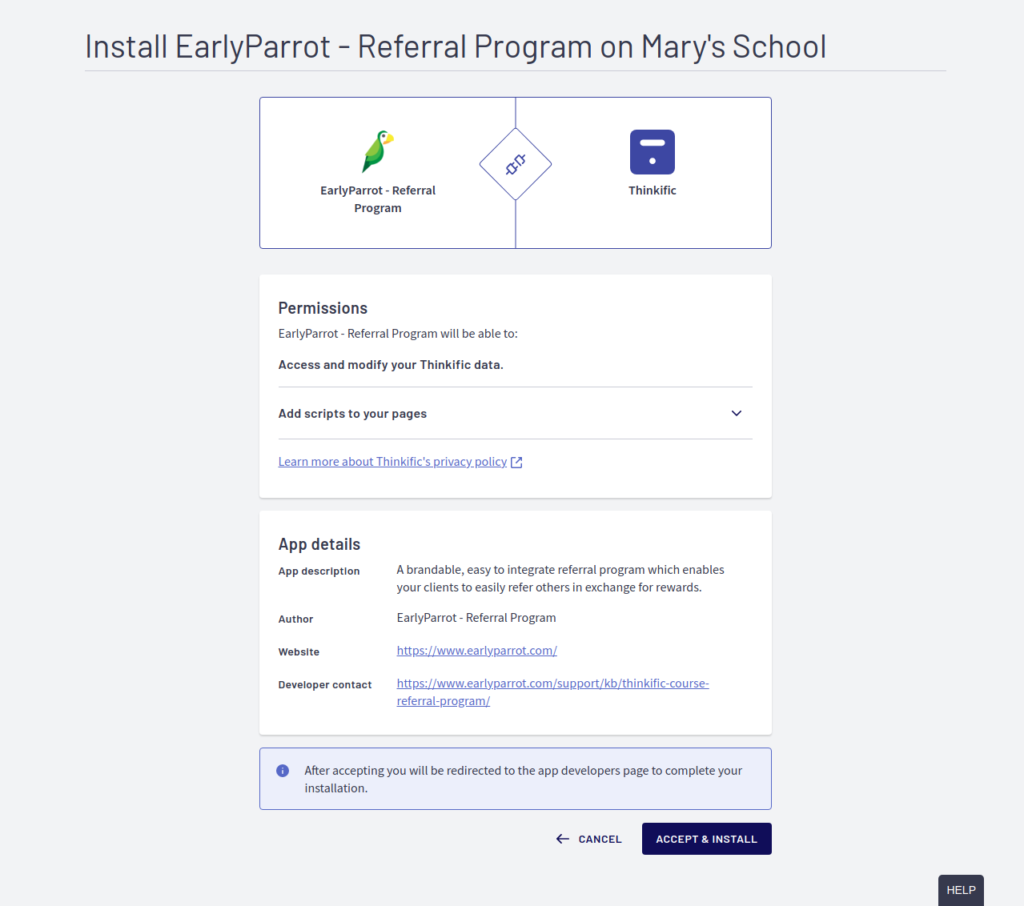 Specify the URL of your Referral Program Landing (where do you want your referrals to be sent to).
Once you click on Accept & Install, you are sent back to the EarlyParrot Campaign Wizard to finish off the Landing Page installation. In step 2, you are asked for the Landing Page URL. This URL represents where you want your referrals to be sent to when referred by others.
Two options here:
If the landing page is a custom page on the Thinkific platform you can use the EarlyParrot Thinkific App integration to deploy the required tracking scripts. Type in the landing page URL (irrespective of whether you are using a custom domain or the Thinkific subdomain). Once done, click on the Add Script button to deploy the tracking script.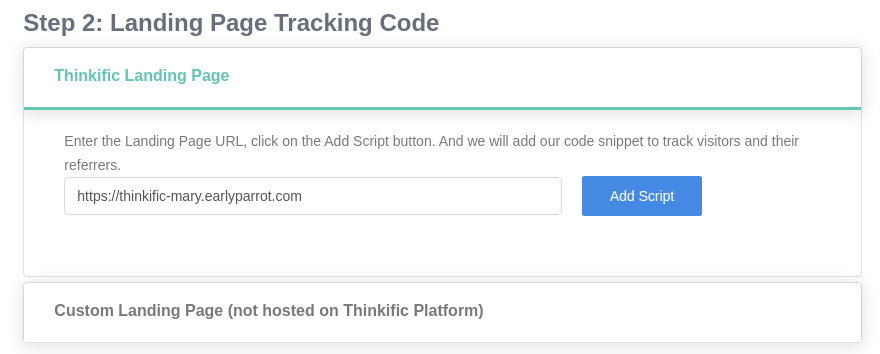 On the other hand, if the landing page is hosted on a platform other than Thinkific, then you should use our custom landing page tracking script, provided in the second accordion.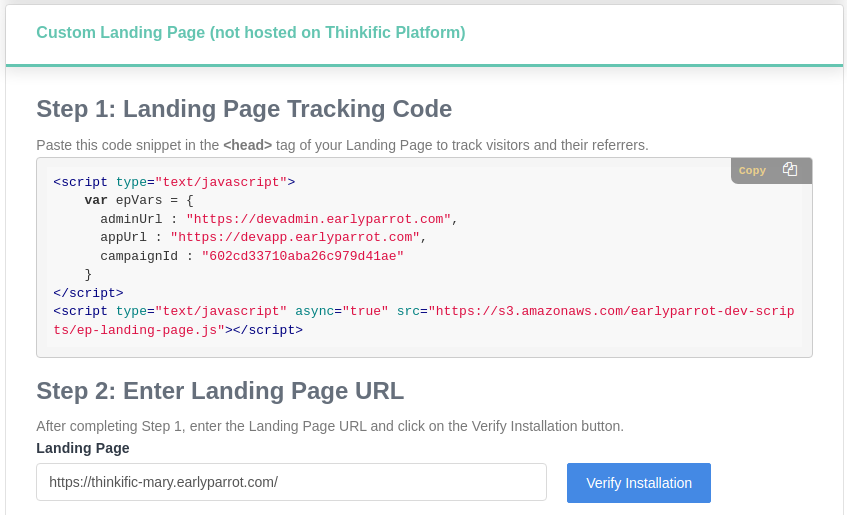 Step 2: Install the Sharing Widget on any page of your choice
Next up is the sharing widget. The share page is a very important part of any referral campaign. The share widget is accessible by all your referrers and will be served from your website but hosted by EarlyParrot. Through the sharing widget, your clients can easily refer others to join and purchase your courses via three main methods: Email, Social Media & Chat Apps, copy and pasting their Unique Referral link. Here is how the sharing widget will look on a Thinkific custom page.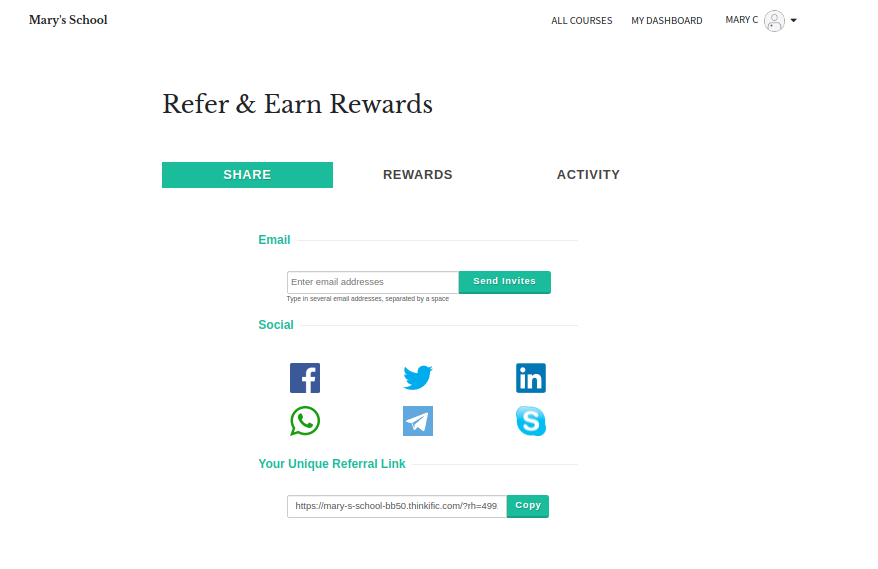 To add the sharing widget to any Thinkific page you need to do the following.
Create a custom Thinkific Page
Creating a new custom Thinkific Page is easy. Under design, your site goes to site pages and then create a new custom page. In this example, I called the page Refer a Friend Page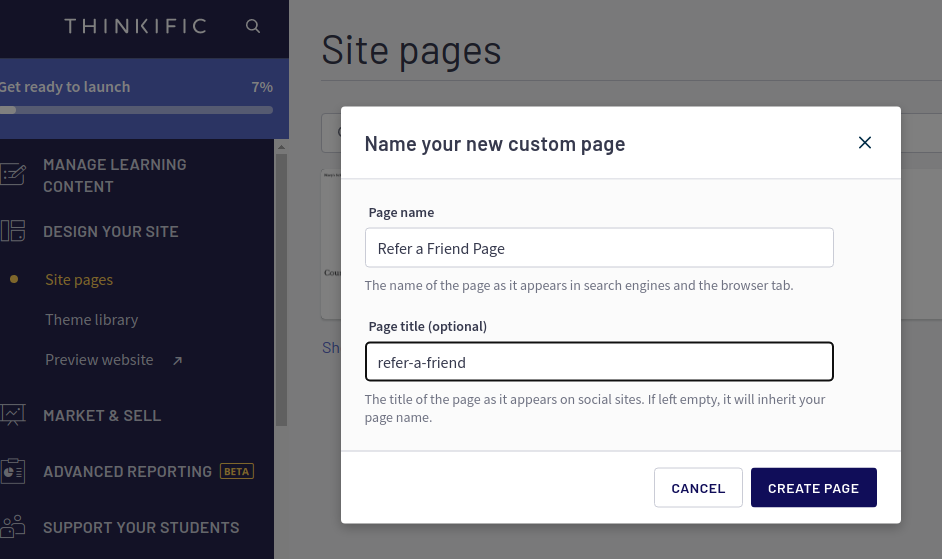 Whilst it is not mandatory it is advisable to lock the sharing page to logged in students only. For the sharing widget to load, EarlyParrot needs to know who is visiting the page, in order to load up the right data for the referrer.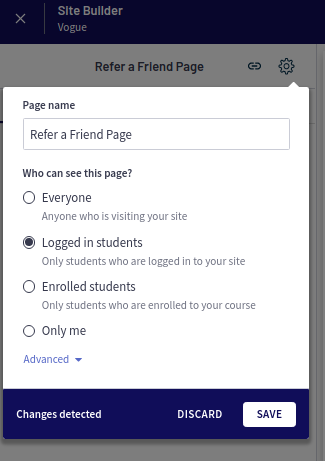 Add %%_EARLYPARROT_%% placeholder anywhere on your page
For the sharing widget to appear on any custom page, you must add %%_EARLYPARROT_%% placeholder as shown in the screenshot below.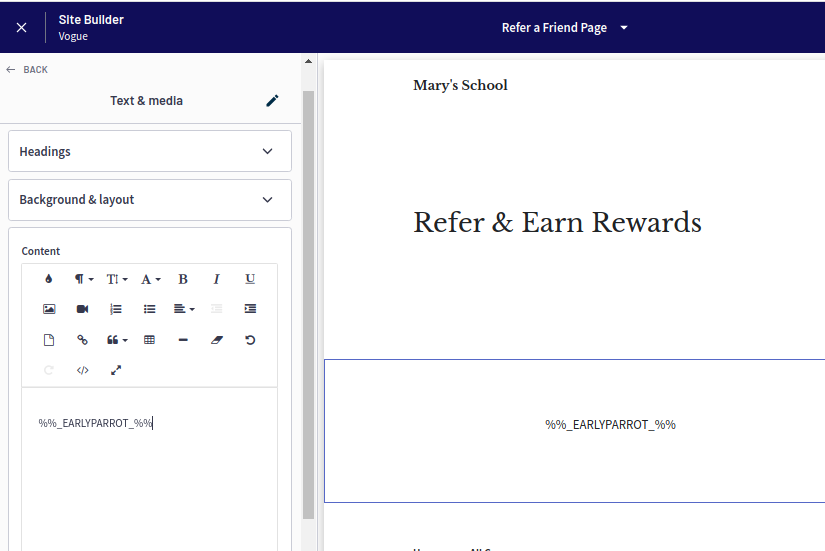 This will result in this: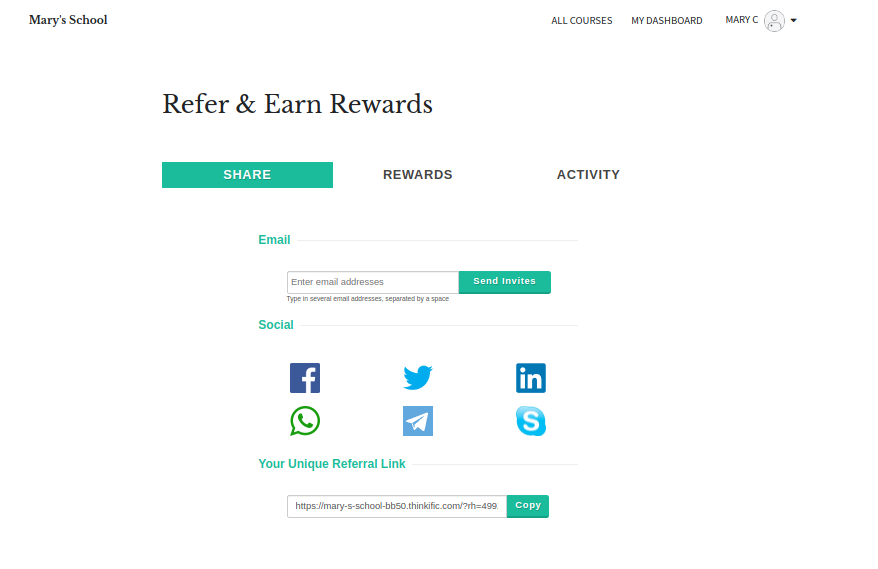 Once you are done, go back to the Sharing Widget step in your EarlyParrot Campaign Wizard to:
a. Modify the look and feel of your sharing widget
b. Enter and verify the sharing widget URL

On the other hand, if you want to install the sharing widget on a page that is not hosted on the Thinkific platform, then you should follow the Custom Code Sharing Page installation step.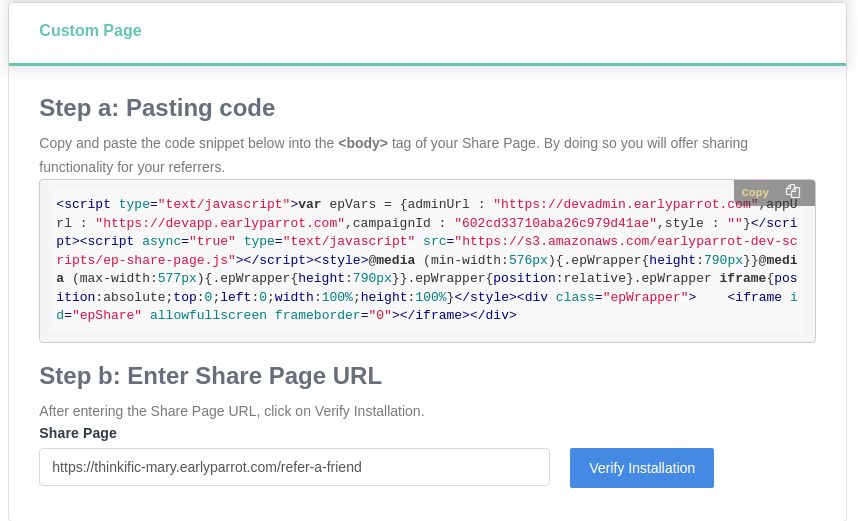 Once done, your Thinkific EarlyParrot is done. Now EarlyParrot will be able to track all your Thinkific activity and react to new FREE or PAID referred users according to your campaign settings. Make sure to check promotional strategies, reward ideas and more at the Thinkific EarlyParrot referral program page