EarlyParrot is a referral marketing platform that can be easily integrated within almost any sales funnel/user flow. EarlyParrot's flexible API makes it possible to track all leads as they opt-in and when referring other opt-ins (referrals). It is also able to automatically rewarding referrers as they reach a milestone in your referral program. This Knowledge Base (KB) focuses specifically on how to integrate EarlyParrot with your ConvertKit account.
EarlyParrot integrates directly with several CMS such as Infusionsoft and ActiveCampaign. EarlyParrot via its integration with ConvertKit integration can:
capture leads as they opt-in a ConvertKit form / ConvertKit Landing Page and determine which have been referred
populate custom fields for any contact in ConvertKit
add tags to any contact in ConvertKit
Before we proceed – don't want to integrate EarlyParrot yourself? Don't have the resources to do it or simply wish to have us set it up for you? We offer a done for you service, at a very reasonable price. Send us a request on su[email protected] with your domain for further instructions.
Why do you need a referral program for your ConvertKit list course?
By adding a referral program to your ConvertKit list you will be turning your existing opt-ins into active referrers, giving them the ability to invite others to sign-up to your content in exchange for a reward.
Referral marketing will:
lower your acquisition cost, by getting new opt-ins through word of mouth
improve your conversion rates as referred opt-ins convert at a better rate
extend your reach / amplify your marketing by getting referrers to spread the word about your brand
How will your ConvertKit referral program be structured?
A referral program requires 3 main pillars to function.
Landing Page: The landing page is where all your referred leads will be sent to. This can be (and most of the time is) the same page where visitors can opt-in to your ConvertKit Form.
Lead Capture Stage: When a visitor opt-ins to your ConvertKit form, EarlyParrot will process captured information in order to determine whether a lead has been referred or not.
Share Page: By adding a Sharing Widget to a newly created page (which we call the sharing page) your ConvertKit opt-ins will be able to refer their friends by either: by sending direct email invites, by sharing posts on social media such as Facebook, Twitter, LinkedIn or else by sending referral links on chat apps such as WhatsApp, Facebook Messenger etc.
The Landing Page component and the Share Page component are integrated whilst creating a new EarlyParrot campaign as per this tutorial. Whilst creating a new campaign, you are required to choose ConvertKit at the funnel step.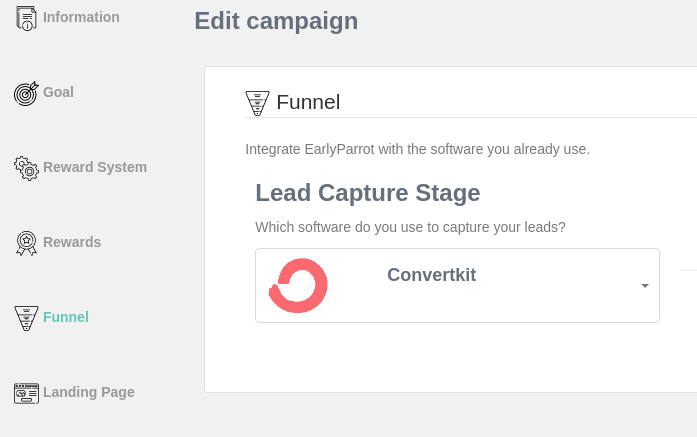 Once you have configured your campaign, you can move on to set up the Lead Capture Script via the Integrations tab.
How to integrate ConvertKit Lead Capture Stage?
ConvertKit can be integrated from the integrations tab for your specific campaign.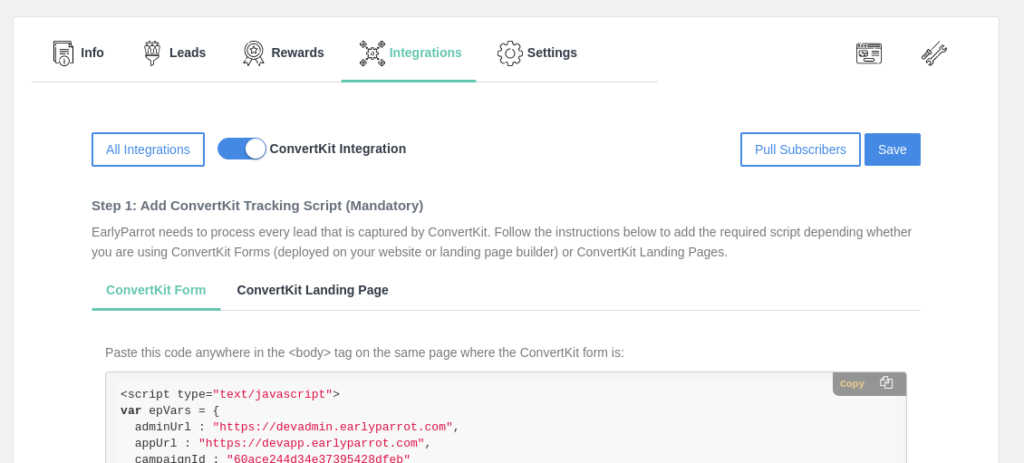 On switching on the ConvertKit Integration, you will have two steps to complete (the second step is optional and only required if you want EarlyParrot to populate custom fields and add tags to your ConvertKit account).
Step 1: Add ConvertKit Tracking Script
For a referral program to function it needs to capture leads as they are opt-ining to your ConvertKit lists. For this reason, you are required to either:
copy/paste the provided code under the ConvertKit Form tab
add the provided code through Google Tag Manager to your ConvertKit Landing Page
Once completing Step 1 you can hit the Save button to finish your ConvertKit Integration.
Step 2: Connect EarlyParrot to ConvertKit (Optional)
This step is OPTIONAL and you should only set this up if you want EarlyParrot to pass on referral information and/or be able to react to events happening in your referral program
EarlyParrot will:
set custom fields of your ConvertKit contacts to enrich your contact with referral information.
add tags to trigger automations and flows
For EarlyParrot to communicate to ConvertKit account you need to fill in the following info:
Check this tutorial on how you can obtain such info.
Do you have any further questions?
We understand that every ConvertKit referral campaign is different from the other. That is why we offer strategy calls & one to one consultations. Schedule a call with our founder Gaetano: https://calendly.com/gaetano-earlyparrot/1-to-1-earlyparrot/