EarlyParrot can send out emails on your behalf, from an email address that you own, to notify a referrer that they are entitled to a reward. Setting up reward emails is important as it will automate your reward distribution step. Once one of your referrers is entitled to get a reward, a pre-set email copy by you will get sent out to the referrer, containing further instructions on how to redeem the promised reward.
Setting up the FROM email
As a first step, before EarlyParrot can send out any emails on your behalf, you have to set up the FROM email address.
We use Amazon SES to send out emails and absorb all costs related to email sending. However, before sending out emails, you will have to verify the ownership the email address to be used.

Adding reward email copy
Once ownership of email is verified, then you can add a reward email for every reward you have created in the reward step.
Choose the reward you want to attach the email copy to from the dropdown shown below.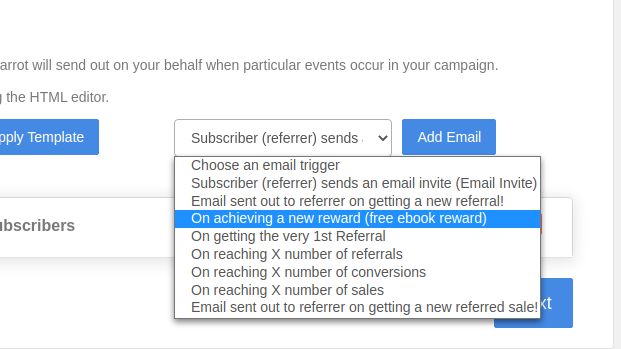 Then set the email copy to be sent out, containing further instructions to the referrer on how to redeem a reward. Ensure that you set a Subject line and that you switch the email ON.