An EarlyParrot Project is a group of one or more EarlyParrot campaigns. A project is intended to:
represent a client in case of an agency
group campaigns for a particular product and or service
help teams collaborate on a project
How to create an EarlyParrot Project?
When registering an EarlyParrot account a default project is automatically created. All campaigns created will automatically get assigned to the default project. However, you are to free to create as many projects as you wish. To create a project click on Create Project button in the first step of the Campaign Create Edit wizard or else go here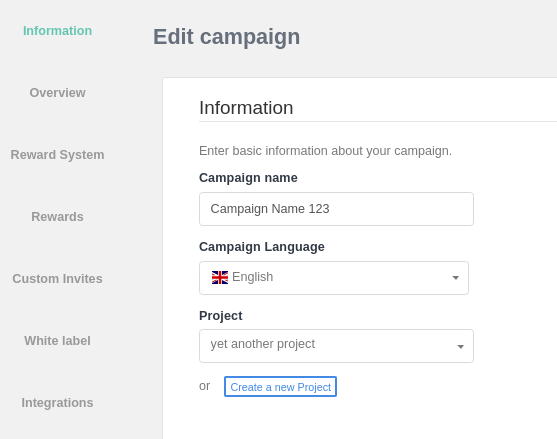 EarlyParrot Project Profile
Switching from one project to another is very easy. Use the drop-down on right in the top navigation menu.

To access the project profile, click on cogwheel next to the drop-down menu.
The project profile is split into four main tabs:
Profile
The project profile shows project details and the remaining steps to complete the project profile.

Members
In the member's section, you can see all members collaborating on this project (and all of its campaigns).

You can even invite other members via email.

Campaigns
The campaigns tab shows all campaigns fall under this project. All campaigns will be billed as one project.

Billing
In the billing section, you can:
choose the billing plan
check out the current project limits compared to the existing plan
add / edit / delete the payment method
Invoices
This tab is only visible if you have at least one invoice. In this tab, you will find all previous invoices, including all the details associated with payments done.