Kartra is an all-in-one platform that allows you to easily create online funnels consisting of a series of landing pages, lead-magnets, opt-ins forms and email sequence campaigns.
Before we proceed – don't want to integrate EarlyParrot yourself? Don't have the resources to do or simply wish to have us set it up for you? We offer a done for you service, at a very reasonable price. Send us a request on su[email protected] with your domain for further instructions.
Our users usually use Kartra to:
host online virtual summits
a waiting list for a launch
capture leads
sell online courses or digital products
lifetime deals
Irrespective of your business case, EarlyParrot's flexible API integration makes it easy to integrate a referral campaign with your Kartra funnel. Let's see how!
In any referral campaign, you will have the following main components:
Landing Page: where all your referred visitors land. Usually, for Kartra funnels, the landing page is the homepage and on this page, there is also the opt-in popup (provided by Kartra). EarlyParrot will monitor all visitors to this page and track referred visitors
Opt-in Page: where your visitors convert into either subscribers, buyers and/or users of the service you provide. An opt-in form will look something like this.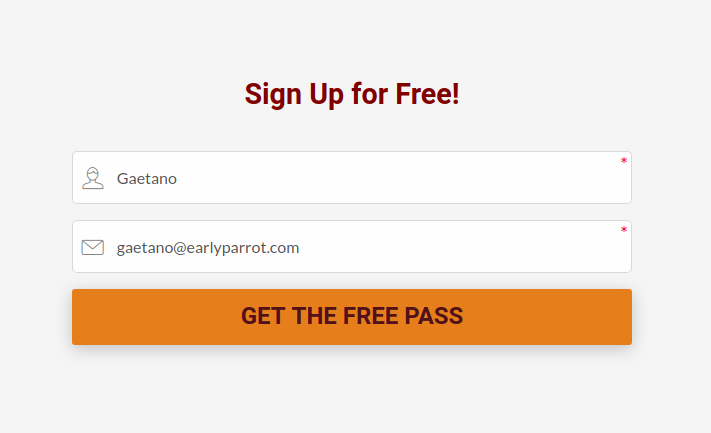 Thank you page: visitors who convert are usually taken to a thank you page which will show them the next step in their sales funnel.
Sharing page: all of the above pages (in this list) most probably already exist. But to add a referral program to your funnel, you will need to create a new page (usually /invite or /refer) which will host the sharing widget.
To integrate a referral campaign via EarlyParrot, you will need to add a script on the landing page, opt-in page, thank you page (optional) and sharing page. Through these scripts, EarlyParrot is able to track:
who is referring who and through which source referrals are coming from.
capture new subscribers and automatically add them to the referral campaign.
offer sharing options straight after signing up, in the thank you page (optional)
offer sharing options to all your subscribers in a newly created dedicated page (which we will call the share page).
Let's go through each of the four scripts in more detail.
Landing Page script
Follow this tutorial on how to add the EarlyParrot Landing Page installation for Kartra
Opt-in Page
Follow this tutorial to capture new leads that opt-in through your Kartra opt-in form.
Share Page
Share page script installation is very similar to the Landing Page script installation. Check out this tutorial on how to install EarlyParrot share page script on Kartra.
Thank you Page (Optional)
You can optionally offer the sharing functionality provided in the Sharing Page straight after a lead opt-in. This is optional but some times it requested by our users, especially those using Kartra to build a waiting list for a launch, newsletter or an online virtual summit. Check out this tutorial on how to install the sharing widget on your Kartra thank you page.